Process Card Payments on a Smartphone by using a card reader card machine or simply tap the customer's card on your phone.
Now featuring the latest Nedbank "Tap On Phone" technology
Transaction fees based on turnover sliding scale or we will beat your existing service provider's rates when you switch to us
Why WAPPoint?
The cheapest card machine may not be the best solution for you.  Some factors to consider:
Reliability: We all know that "goedkoop is duurkoop" and an unreliable card machine can cost you a lot of money in lost sales. Our Pocket Pro Card Reader is tried, tested and loved by thousands of merchants countrywide and we have 20 years industry experience.
Backup solutions:  If your card machine lets you down during a busy period, with any service provider you're going to wait between 4 hours-72 hours for a new one. We give every client a free Snap & Pay solution to continue trading immediately and we offer free backup devices at major expos. 
Multiple Solutions Under One Roof: Many service providers only offer the card reader option or only physical devices but as your business grows, you may want to trade online or upgrade to a speedpoint card machine. Splitting your turnovers between various providers can cause that you pay a higher rate. With us you can grow and get the best deal overall.
Description
Looking for a low-cost card machine for your business? The Pocket Pro card reader, also known as the Pocket POS, is such a popular mobile credit card reader because it fits into your pocket, is instantly connected through Bluetooth technology and comes with great service and support! Convert your smartphone or tablet into a mobile card machine for small businesses and start growing overnight! Purchase the device outright and you'll never have too worry about monthly payments again! No Minimum Service Fees or Swipe or Settlement Fees either!
What's in the box
1 x WAPPoint Pocket Pro card machine device
1 x Free Back Up Snap and Pay QR Code Sign
1 x USB Charger
1 x User guide
1 x Card Acceptance Display Decal
*Please note that all payment terminals come with Visa and MasterCard acceptance by default. Any other card types may require additional paperwork to apply and may take anything from 2 weeks to 2 months to apply for and integrate into your card reader terminal.
Features
– Modern and sleek look and feel
– Long lasting battery life
– Equipped to handle busy trading environments
– Tap and go enabled
– EMV 'Chip & PIN' certified
– Compatible with Android & iOS devices
Reviews
Parktown North Residents Association
Unit arrived with clear instructions, necessary passwords etc. User friendly device, as well as supporting App Notice of Courier collection given in good time. Payment received timeously. All in all a good experience.
Wonderfully efficient and fast – thanks
There are real people with names at the other side of the line. They are always helpfull, patient and friendly. Real people are available to assist if there are problems with transactions. I am terrible with devices,but with Wappoint ,there is always help available.
Our card machine broke down over the weekend at a festival. A representative delivered a new machine within an hour. Great service!
3-in-1 Contactless Payment App with Unlimited Device Replacements!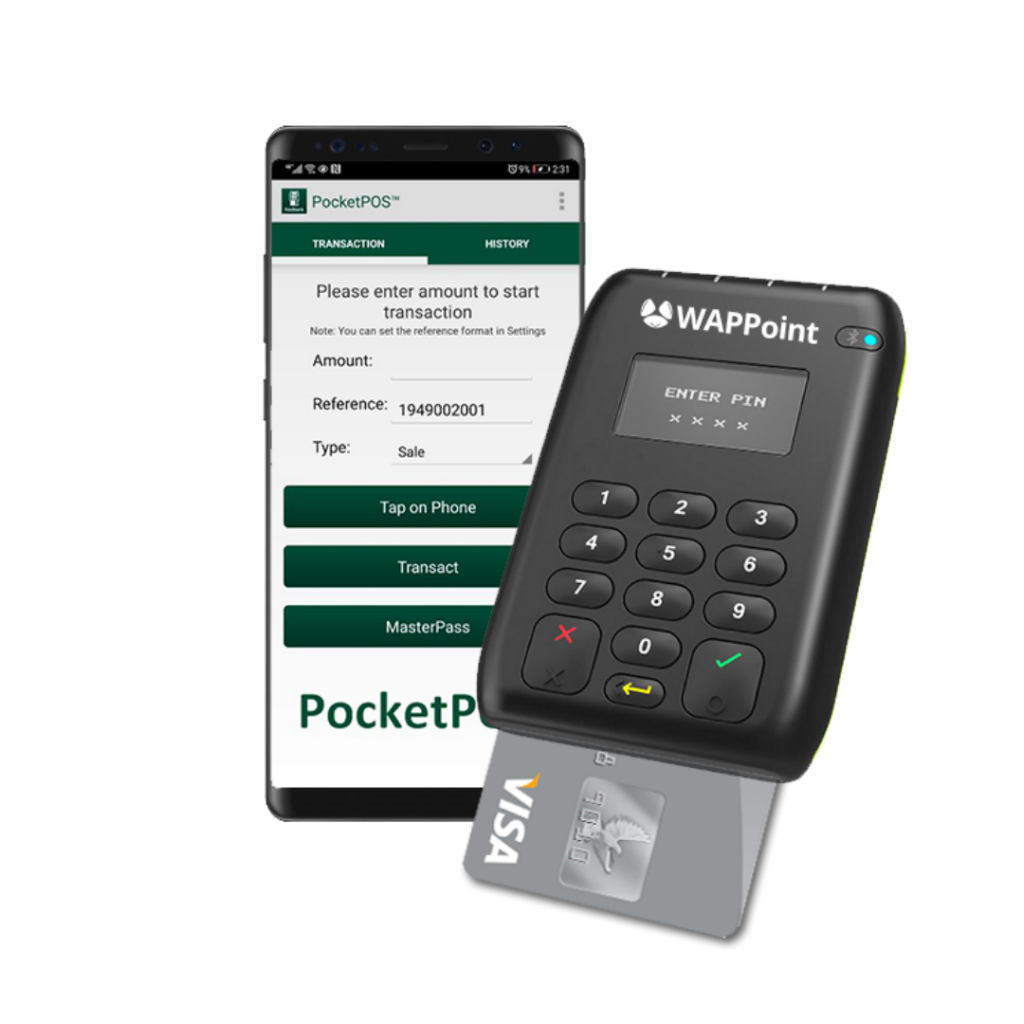 Month-Month Contract (Min 2 Months)
No Setup Fees

R0 if turnover exceeds R15000pm /R79pm if it doesn't

R200 Delivery *Ts & Cs Apply

Unlimited Device Replacements

Tx Fees Dependent on Turnover or we'll beat your current rates

Total Upfront Cost Per Device = R79(Rental)+R200(Delivery) R279+VAT=R320.85
Let us beat your current card machine rates
Comparison between pocket Pro vs Speed Point Card Machines
| Description | Card Reader | Card Machine |
| --- | --- | --- |
| Connectivity | Connects via Bluetooth | Connects via SIM Card |
| Requirements | Smartphone/Tablet | Standalone |
| Battery Life | All Day Battery (Dependent on Usage) | All Day Battery (Dependent on Usage) |
| Charger | USB Charging | Regular Charger |
| Tap n Go | Enabled | Enabled on Selected Devices |
| Transaction Speed | 30 sec -1 Minute | Less than 1 min |
| Best Suited To | Lower Turnover Merchants / Merchants with 1 Operator | Higher Turnover Merchants / Merchants with Multiple Operators |
| Card Types | Visa/Master PIN Based Cards | Visa, Master by default. Amex / Diners / Fleet etc upon request. |
Sign Up In Under 10 Minutes
STEP 2
Delivery within 1-3 days
Rental Vs Buying a Card Machine
You get to decide what's right for your pocket and your business. Purchasing a card reader or card payment device may seem like the obvious choice but if your card machine breaks outside of warranty, can you afford to buy a new one or pay for the repairs every time? Our rental package allows you to get unlimited replacements!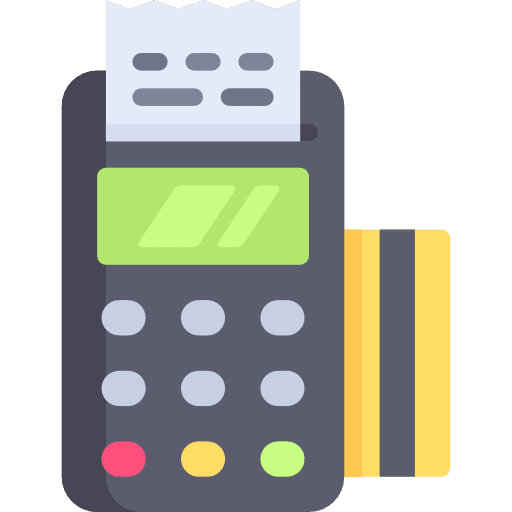 Speedpoint Machines
High speed transacting on a wireless card machine. Every device can be fitted with dual SIM cards for best connectivity.
Online Card Payments
Whether you have an existing website or no website at all, we can help you accept online or eCommerce card payments.