Selected card machines have the capability to vend Airtime, Data, Electricity (All VAS Services) and do cashbacks / cash withdrawals. 
Process Card Payments on a Wireless Swiping Machine
Rental or Purchase Packages
Transaction fees based on turnover or we will beat your rates when you switch
Why WAPPoint?
The cheapest card machine may not be the best for you. 
Here are some factors to consider:
Reporting: We offer CSV reporting to simplify your recon & bookkeeping processes. Most service providers only offer the end of day settlement print out which then has to be captured and reconciled by hand.
Backup solutions:  If your card machine lets you down during a busy period, with any service provider you're going to wait between 4 hours-72 hours for a new one. We give every client a free backup payment solution to continue trading immediately and we offer free backup devices at major expos so you can continue trading within minutes. 
Purchase Options: Most service providers only offer the option to rent a PrintPOS card machine. On average our merchants who opt to buy a card machine save R6000 a year. 
Description
Features
Reviews
PrintPOS Card Machine Packages
Once you make a selection, complete our hassle free online sign up and we'll deliver within 1-3 days!
R95pm Insurance. Single SIM Included. R50pm for additional SIM

R200 activation & delivery SQ

Tx fees dependent on turnover or we'll beat your current rates

Prints electronic receipts & can accept any unusual card types

Unlimited swap outs are part of the rental benefits
Purchase
No Fixed Contract
R50pm per SIM rental. WIFI connectivity coming soon.

R200 activation & delivery SQ

Tx fees dependent on turnover or we'll beat your current rates

1 year warranty. High quality & built to last.

Supports multiple operators and designed for fast paced stores
Expo
Rent for up to 3 weeks
R95 Insurance. We recommend adding an extra SIM for R50 extra

R200 activation & delivery SQ

Tx fees dependent on turnover or we'll beat your current rates

We deliver free backups to most major events

We cater for around 500 events per year.
Please note we have updated our device name from Speed Point to PrintPOS Card Machine. These devices are still known as speed points in various terminology, but we refer to our devices as POS devices as they can be integrated with Point Of Sale software
Let us beat your current PrintPOS rates
Comparison between Card Machine Packages
| Description | Card Reader | Card Machine |
| --- | --- | --- |
| Connectivity | Connects via Bluetooth | Connects via SIM Card |
| Requirements | Smartphone/Tablet | Standalone |
| Battery Life | All Day Battery (Dependent on Usage) | All Day Battery (Dependent on Usage) |
| Charger | USB Charging | Regular Charger |
| Tap n Go | Enabled | Enabled on Selected Devices |
| Transaction Speed | 30 sec -2 Minutes | Less than 1 min |
| Best Suited To | Lower Turnover Merchants / Merchants with 1 Operator | Higher Turnover Merchants / Merchants with Multiple Operators |
| Card Types | Visa/Master PIN Based Cards | Visa, Master by default. Amex / Diners / Fleet etc upon request. |
Sign Up In Under 10 Minutes​
STEP 2
Delivery within 1-3 days
Rental Vs Buying a Card Machine
You get to decide what's right for your pocket and your business. Purchasing a card reader or card payment device may seem like the obvious choice but if your card machine breaks outside of warranty, can you afford to buy a new one or pay for the repairs every time? Our rental package allows you to get unlimited replacements!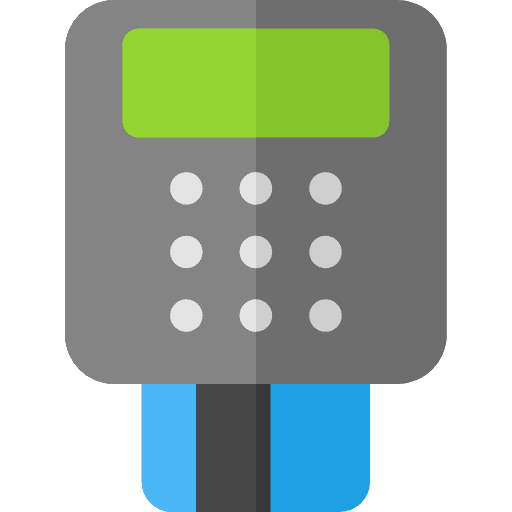 Pocket Pro Card Reader
The credit & debit card terminal that connects to your smart phone via bluetooth to process transactions on the go.
Online Card Payments
Whether you have an existing website or no website at all, we can help you accept online or eCommerce card payments.