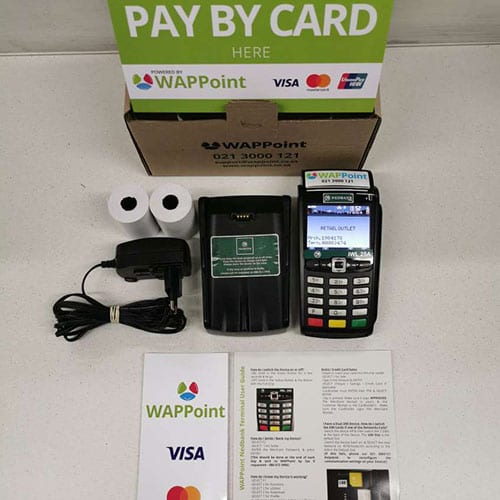 Process Card Payments on a Wireless Swiping Machine
From R379 pm| R3999 once off (ex VAT)
Transaction fees based on turnover sliding scale or we will beat your existing service provider's rates when you switch to us
Description
A wireless stand-alone debit and credit card machine which accepts credit and debit card payments on the go. This device communicates transactions to the bank by utilising built-in SIM cards and has the ability to print receipts.
What's in the box
1 x WAPPoint Speedpoint device
1 x Free Back Up Snap and Pay QR Code Sign
1 x Charger
1 x User guide
1 x Card Acceptance Display Decal
3x Tally Rolls
*Please note that all payment terminals come with Visa and MasterCard acceptance by default. Any other card types may require additional paperwork to apply and may take anything from 2 weeks to 2 months to apply for and integrate into your terminal.
Features
– Modern and sleek look and feel
– Long lasting battery life
– Equipped to handle busy trading environments
– Tap and go enabled
– EMV 'Chip & PIN' certified
-Built-in Printer
-Our card machines can be repaired and serviced over time.
Reviews
Super easy to use. Fantastic service.
The service at Wappoint is always incredibly good! Communication is always excellent. Delivery times etc… Thank you
Carmen Stevens Wines (Pty) Ltd
I had a problem with the charger and they sent me a new machines immediately. Great Service!
Your Best choice (Pty) Ltd
The machine as working excellently until we were out of paper roll, otherwise the service is good.
Extra Value Offer
The cheapest card machine may not be the best solution for you.  Some factors to consider:
Reporting: We offer CSV reporting to simplify your recon & bookkeeping processes. Most service providers only offer the end of day settlement print out which then has to be captured and reconciled by hand.
Backup solutions:  If your card machine lets you down during a busy period, with any service provider you're going to wait between 4 hours-72 hours for a new one. We give every client a free Snap & Pay solution to continue trading immediately and we offer free backup devices at major expos. 
Purchase Options: Most service providers only offer the option to rent a speedpoint card machine. On average our merchants who opt to buy a card machine save R6000 a year.
16 Reasons To Choose WAPPoint for your Card Processing Needs
Let us beat your current speedpoint rates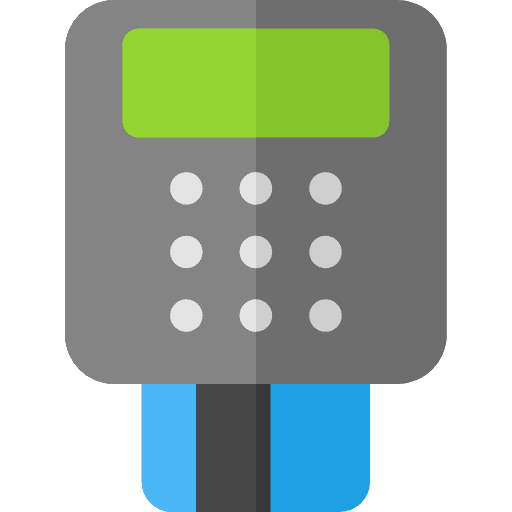 Pocket Pro Card Reader
The credit & debit card terminal that connects to your smart phone via bluetooth to process transactions on the go.
Online Card Payments
Whether you have an existing website or no website at all, we can help you accept online or eCommerce card payments.