Turn your Smartphone into a Card Machine
The new way to accept card payments in your business, using just an NFC "Tap" enabled smartphone and the Nedbank Tap on Phone App for PhonePOS
Turn Your Android Smartphone into a Card Machine
The new way to accept card payments in your business, using just an NFC "Tap" enabled smartphone and the Nedbank Tap on Phone App for PhonePOS
Why purchase a card machine when you already have one in your pocket?
Contactless
"Tap n Go" makes it easy to transact quickly
Fully Secure
Nedbank has developed the App used for sales
Multiple Users
All of your staff can download the App and use it
No Monthly Fees
Once off activation fees & pay as you transact
Customers simply Tap to Pay…on the back of your smartphone!
Say goodbye to costly card machines
Nedbank
Tap On Phone will transform your business
Seamless card transacting through PhonePOS
Why purchase a card machine when you already have one in your pocket?
Tapping into the Possible Podcast 2: A Nedbank Synthesis Series
Watch how easy it is to accept card payments on your phone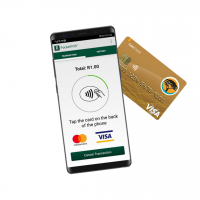 R200 Activation & Delivery

Accepts Tap Enabled Cards
R200 Activation & Delivery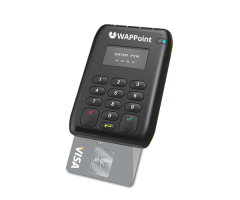 PocketPOS
FREE IF YOUR TURNOVER EXCEEDS R5000 PM
R200 Activation & Delivery

Accepts All PIN Based Cards

Sliding Scale Rates Apply
Nedbank "Tap on Phone" just made accepting card payments a whole lot easier
Ensure NFC Is Activated
Go to Phone Settings
Login On The App
Supplied by WAPPoint
Select Tap On Phone
Enter the Amount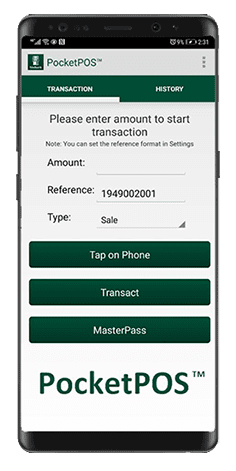 Tap Chip Card
Back of Phone
Transaction Successful
Generate A Receipt
Grow your business revenue
Frequently Asked Questions
What type of cards will I be able to accept?
Nedbank Tap on Phone accepts all contactless Visa and MasterCard transactions, MasterPass accepts QR Code transactions and Pocketpos accepts all PIN based cards. *Please note that all of these come with Visa and MasterCard acceptance by default. Any other card types may require additional paperwork to apply and may take anything from 2 weeks to 2 months to apply for and integrate into your terminal.
How do I check if my phone is compatible?
How to download the app and start using it?
Simply search for the Nedbank Pocketpos App and download it. Sign up with WAPPoint for a merchant ID and wait for your App logins to be sent by email. Start transacting once you can login.
Do I need to bank with Nedbank in order to use this service?
No, you can use any bank account
Why are you still offering a PocketPOS device if the PhonePOS Tap on Phone can do transactions without it?
There are many customers who may not have the Tap function enabled on their card so the device is a fail safe for these transactions/customers. Most customers will be able to transact so this is totally optional and can be obtained later on if this becomes a problem in your business.
Can I accept transactions through FNB Pay/Samsung Pay?
Many customers don't carry cards anymore and simply use their FNBPay function or SamsungPay to make purchases. You will be able to accept these card transactions.
Masterpass is a digital wallet App whereby a cardholder can store their card information into a secure banking App. When it's time to make a payment, the cardholder simply opens their App, scans the merchant's QR Code and then a payment is concluded.
Our App will generate a QR Code which they can scan to pay.
No, receipts are electronic and can be sent to the cardholder via SMS or email
What are the application requirements / FICA documents needed?
A copy of ID/Passport, a proof of address, a 3 month bank statement.
If you are a registered business, we'll need a copy of the CIPC docs. You do not have to be a registered business to apply, in fact this service was designed for the start ups / individuals who trade on the go
Can I apply if I have a bad credit record?
If you have valid business history, we can overlook the credit history
Nedbank released the new "tap on phone" card payment solution – a first in Africa.
How secure are contactless transactions? Read this article to find out more.